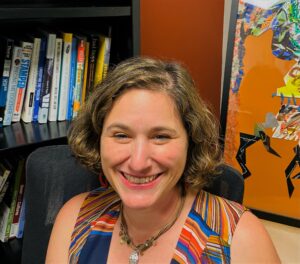 Lauren J. Silver,PhD
Associate Professor of Childhood Studies
Department of Childhood Studies
Rutgers University – Camden
329 Cooper Street – Room 212
Camden, NJ 08102 
ljsilver@camden.rutgers.edu
Twitter: @ljsilver7
website: https://laurenjsilver.squarespace.com
Lauren J. Silver is Associate Professor of Childhood Studies at Rutgers University in Camden, NJ. Dr. Silver joined the Rutgers-Camden Department of Childhood Studies in 2009 and is an Affiliate Scholar of the Center for Urban Research and Education and an inaugural Faculty Fellow of the Institute for the Study of Global Racial Justice (2021-2022). She is a feminist ethnographer whose work lies at the intersection of abolitionist praxis, queer kinship, and transformative childhood studies. Dr. Silver's scholarship centers the lives of young people who experience gendered and state violence; her particular focus on valuing children's theorizing brings pressing, often overlooked, perspectives to activist conversations and practices.
Dr. Silver's book, System Kids: Adolescent Mothers and the Politics of Regulation (2015, University of North Carolina Press) ethnographically details identity work, as youth navigated systemic and gendered violence, racism, ageism, and other interlocking forms of oppression in a large, urban child welfare system. She is currently writing her second book, Abolitionist Childhood: Forging Freedom at the Rifts of Racial Capitalism, as a series of poetic autoethnographic and ethnographic reflections in innocence, kinship, voice, and care. Abolitionist Childhood imagines a world where the relationships, institutions, and environments that harm children could be undone and built anew to promote healing, freedom, and wellbeing. In Abolitionist Childhood, Dr. Silver ask the questions: how can critical insights from young people and childhood studies counter myths and clarify visions for abolition? How can the momentum from abolitionist movements radicalize childhood studies and center our scholarship in the lives of Black, Brown, Indigenous, disabled, and queer youth?
Education:
Ph.D. in Education, Culture, and Society, Graduate School of Education (2007) – University of Pennsylvania
M.S.  in Education, Culture and Society (2001) -University of Pennsylvania, Graduate School of Education
B.A. in Cultural Anthropology (1998) – Washington University in St. Louis
Research Interests: 
Anthropology of youth and the state including urban education, child welfare, and juvenile justice; ethnography methods; minority youth development. 
Courses Taught:
Undergraduate:  Gender and Education, Urban Education, Urban Education Civic Engagement Seminar, Youth Identities and Urban Ecology, Honors Seminar in Youth Identities
Graduate:  Interpretive Methods, Youth Identities, Urban Education
View full CV HERE 
---
Publications
Book Manuscript
Silver, L.J. (2015). System Kids: Adolescent Mothers and the Politics of Regulation. Chapel Hill, NC: University of North Carolina Press.
Peer-Reviewed Articles
Silver, L.J. (2019). "Transformative Childhood Studies: A Remix in Inquiry, Justice, and Love." Children's Geographies, DOI: 10.1080/14733285.2019.1610155
Silver, L.J. (2015). "Urban School Formation: Identity Work and Constructing an Origin Story." The Urban Review, 47 (3).
Silver, L.J. (2010). "Spaces of Encounter: Public Bureaucracy and the Making of ClientIdentities." Ethos, 38 (3):275-296.
Silver, L.J. (2008). "Minding the Gap: Adolescent Mothers Navigate Child Welfare."
Social Service Review, 82 (4):615-638.
Book Chapters
Bergère, C. and Silver, L.J. 2015. "Phenomenology and the Politics of Global Urban Youth Research." In S. Poyntz and J. Kennelly (Eds.), Phenomenology of Youth Cultures and Globalization. New York: Routledge.
Spencer, M.B., Silver, L.J., Seaton, G., Tucker, S.R., Cunningham, M., & Harpalani, V. (2001). "Race
and Gender Influences on Teen Parenting: An Identity-Focused Cultural-Ecological Perspective." In T. Urdan & F. Pajares (Eds.), Adolescence and Education, Vol. 1: General Issues in the Education of Adolescents. Greenwich, CT: Information Age Publishing Inc., Pp. 231-268.
Invited Article and Review
Silver, L.J. (2008). "The Politics of Regulation: Adolescent Mothers and the Social Context of
Resiliency." VOICES: A Publication of the Association for Feminist Anthropology, 8 (1).
Silver, L.J. (2004). "Ending Silence, Children's Visions, and Racial Justice: A Review of 'Racism
Explained to My Daughter.'" Penn GSE Perspectives on Urban Education, 3 (1).
Manuscripts Under Preparation
Silver, L.J. Youth Pathways Across Camden: Narratives in Urban Schooling. (Book manuscript in preparation.)
Silver, L.J. "Excavating 'Shadows': Looking Back to Look Forward with Ethnographic Fieldwork."
(Journal manuscript under preparation)
Fellowships and Grants
Rutgers University
Presidential Fellowship for Teaching Excellence, $1000, April 2015
Chancellor's Award for Academic Civic Engagement, May 2014
Digital Teaching Fellowship, $2000, 2014-2015
Chancellor's Award for Teaching Excellence Nominee, March 2014
Dean's Recognition for Mentoring Undergraduate Research, April 2012
Teaching Sabbatical Awarded for Fall 2012
Rutgers University Faculty Research Grant, Office of the Vice President for Research and
Economic Development, Project Title: Youth Pathways across Camden: Narratives in Urban
Schooling, $20,000, July 2012-June 2014
National Science Foundation RU FAIR ADVANCE Travel Award, $2000, Summer 2012
Rutgers Camden Civic Engagement Faculty Fellowship, $1000, Spring 2012
Washington University in St. Louis
Postdoctoral Fellowship at the Center on Urban Research and Public Policy and the program in
American Culture Studies, 2007-2009
University of Pennsylvania
Foreign Language and Area Studies Fellowship (For Kiswahili), 2000-2001
Research Assistantships, 1999-2000, 2003-2005
China Summer Study Tour Scholarship, 2004
Camden City Public School District, Volunteer Award, November 2009
Blogs and Media Appearances
Invited Blog Posts
"Staying Close to Look Deep: Teaching Childhood Studies." Anthropology of Children and Youth Interest Group Blog. July 12, 2015 
"Enlivening Social Justice through Spanning Boundaries." UNC Press Blog. March 30, 2015 
" Beyond Snapshot Stories: The Power in Youth Representation." UNC Press Blog. February 25, 2015. 
Media Appearances
"Researcher's Book Shines Light on Flawed, Child Welfare System."  Rutgers-Camden News Now.  March 2013.
Community Outreach and Involvement
The Monkey & The Elephant, Philadelphia, PA (August 2015 – Present)
Volunteer                            
Facilitating community workshops for a nonprofit cafe that hires former foster youth and supports them in their transitions to adulthood; exploring barriers encountered by system-involved youth, how to overcome obstacles, and college access
Youth United for Change and Research for Action Philadelphia, PA (2003)
Facilitator S
Co-taught a series of workshops to public high school students; explored how to use
qualitative research techniques for student inquiry projects in urban schools.
Parent Infant Center Philadelphia, PA (Jan. 1999- Aug. 1999)
Lead Teacher 
Designed and implemented curriculum for a pre-school enrichment program that included dance, drama, and artistic expression; developed creative curriculum and supervised school-age after-school program (grades 3-5).
Hawthorn Children's Psychiatric Hospital St. Louis, MO (May 1996- Dec. 1997)
Substitute/Part-time Educator
Taught in child and adolescent classrooms; created and implemented curriculum, which applied arts activities to advance science concepts; taught individual and group dance classes.
View full CV HERE